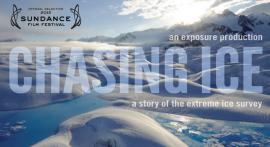 Chasing Ice, a documentary about photographer James Balog and his Extreme Ice Survey (EIS) project, premiered at the Sundance Film Festival in Park City, Utah, January 21. The 75-minute film received standing ovations after each of ten screenings, and director Jeff Orlowski took home the Excellence in Cinematography Award for Documentary Films.
Orlowski spent months following photographer James Balog as he struggled with balky equipment, terrible weather, sideways terrain, and personal injury to acquire time-lapse photography of moving glaciers. The time-lapse footage shows dramatic evidence of glacier retreat in Greenland, Iceland, Alaska, and Montana.
James Balog founded EIS in 2007 to capture still and time-lapse images of glaciers, merging art and science to show changing ecosystems. The project deploys solar-powered cameras at 18 glaciers in Greenland, Iceland, the Himalayas, Alaska, and the Rocky Mountains. Each camera records an image every half hour during daylight hours, resulting in approximately 8,000 frames per camera per year.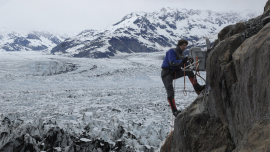 Critics lauded the visual richness of both Orlowski's work and the Extreme Ice Survey footage contained in the film as "amazing" and "viscerally compelling." Orlowski gives context to the imagery by interviewing scientists, including INSTAAR Fellow and CU Professor of Civil, Environmental, and Architectural Engineering W. Tad Pfeffer, whose data on climate and the environment reinforces the visual effect of the EIS footage.
National Geographic Channel has purchased the television rights to the documentary; plans for film festival showings are ongoing. Locally, Chasing Ice will be the capstone film at the Boulder Film Festival (http://www.biff1.com/) February 19.