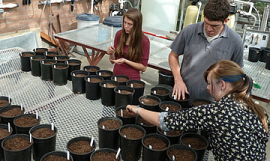 New Vista High School students Kelly Muller and Remy Barrows-O'Neal won several awards at the 56th Colorado Science and Engineering Fair April 7-9 for their project "How Climate Affects the Spread of Invasive Species." They worked with INSTAAR graduate students Janet Prevéy and David Knochel in Tim Seastedt's terrestrial ecology lab to study the effect of varying rainfall amounts on the competitive ability of an invasive grass (cheatgrass) grown in competition with a native species (western wheatgrass).
The students won the Senior Division Environmental Sciences Category Team Award, placed third in the Senior Division for Best Team Project in the state, and received the American Meteorological Society Denver/Boulder Chapter Special Award.
Their findings demonstrated that rainfall amounts influenced the success of the invasive grass. Janet Prevéy, who served as the primary mentor on the project, believes the study made an original contribution to our knowledge about the competitive abilities of cheatgrass. "Their project showed that cheatgrass was more competitive than the native western wheatgrass at all resource levels, but especially at low resource levels," she explained, "contrary to the theory that non-native species benefit from high resource conditions and native species are better able to compete in low resource conditions."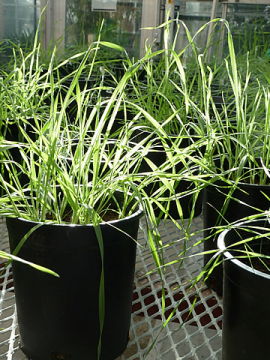 Muller and Barrows-O'Neal worked on their project for six months in the terrestrial ecology lab, counting seedlings, weighing biomass, and taking other measurements.