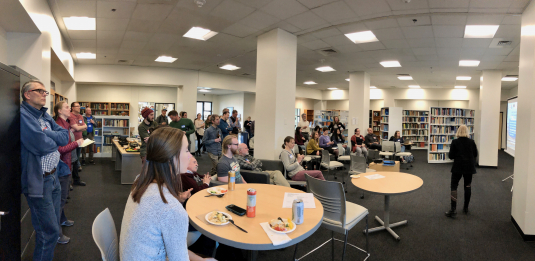 Whales, wildfires, and weeds; dams, drones, and diatoms; sulfur, swamps, and sea ice were all headline topics at INSTAAR's first data blitz last week. In quick succession, faculty, graduate students, and postdocs took turns giving two-minute talks using two slides apiece. The speed talks were meant to showcase the breadth and diversity of research that takes place in the Institute, and to help everyone get to know each other and their work a little better.
The data blitz was the brainchild of new director Merritt Turetsky. "INSTAAR is a powerhouse research engine, known internationally for our high quality research", says Turetsky. "But we are also an Institute full of passionate, fun people. We can elevate our research by sharing ideas freely, and having some fun while doing it."
The two-minute limit put pressure on the presenters to present one clear idea—and to do a lot of fast talking. Topics ranged widely. Keith Musselman presented a newly-funded study to see how a changing climate will affect Alaskan rivers, fish and communities. Julia Moriarty asked, when marshes erode, where do the sediments wind up? Mark Piper likened aspects of models to operating a car. Abigail Smith showed work on seasonal sea ice transitions in climate models. After teaching a class at the farthest point of campus from SEEC, Noah Molotch literally ran in just in time to introduce the "rain-snow tipping point" his group has been studying.
Science puns were encouraged throughout and a contest held for best pun. Sylvia Michel was a clear winner, submitting both, "There goes Bruce, droning on again," about Bruce Vaughn's flying a UAV to take air samples over the Greenland ice sheet; and "Hallie needs that dam data," about Hallie Adams' looking at tree rings to see how removing dams influences nutrient movement around streams. Sebastian Cantarero also took home pun honors by summarizing Sarah Crump's analysis of plant DNA in Baffin Island lake sediments as, "shotgun metagenomics gives us a blast from the past of Arctic climate." A fan of science puns herself (with the contribution of "The Never Ending Story - how ancient plants reveal our future" to describe Sarah Crump's ancient DNA work), Turetsky is rewarding Michel and Contrero's clever contributions with some small pun-worthy gifts.
Plans are afoot to stage another data blitz in a few months, but Turetsky hints that she might shake up the rules to keep the presentations and event overall feeling fresh. "The most important thing is to get busy INSTAARs into the same room sharing their passion," Turetsky says, "and that is perhaps one of the most important things I can do in my new Director role."