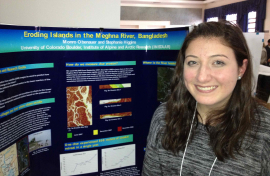 Monro Obenauer, a junior at Broomfield High School, was awarded a Regional Special Award from the Colorado Geological Survey last month at the Intel International Science and Engineering Fair.
For her project, Obenauer studied eroding islands in Bangladesh. She was mentored by graduate student Stephanie Higgins, who works with Professor James Syvitski and researcher Irina Overeem. From September through February, she spent three hours a week at INSTAAR, analyzing radar images of Bangladesh collected by the Japanese Advanced Land Observation Satellite.
Monro found that some islands are eroding hundreds of meters per year, putting thousands of villagers at risk of losing their homes.
Corden Pharma sponsored Boulder Valley School District's participation in the fair.