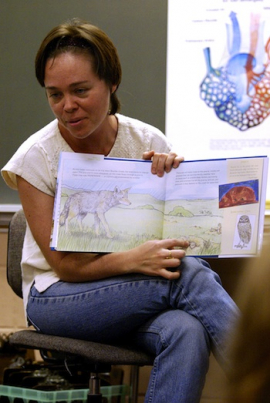 INSTAAR faculty, researchers and graduate students visited several area elementary schools in May to hand deliver copies of a new children's book, My Water Comes from the Mountains, written by local educator Tiffany Fourment.
Fourment began writing the book as a project for a summer field course, Alpine Ecology and Experiential Learning, taught by Diane McKnight at the Mountain Research station. The book introduces children to their local watershed, which is fed by waters from the Continental Divide. Fourment narrates the path of water from alpine to plains ecosystems as it becomes the drinking supply and irrigation water for the city of Boulder and neighboring communities. The book's unique contribution to environmental education is that it goes beyond fact-based learning by enabling children to apply ideas and concepts to their own local area.
About 2,000 books were purchased for fifty-four elementary schools in Boulder Valley and St. Vrain school districts by the Niwot Ridge Long Term Ecological Research project, which is supported by the National Science Foundation and managed by INSTAAR researchers. The publisher, Roberts Rinehart Publishers, will also be distributing the book to bookstores in national parks and schools around the country.
Latest update: In September, the book was nominated for a regional book award in the children's category by the Mountains and Plains Booksellers Association. The winner will be announced in March 2005.