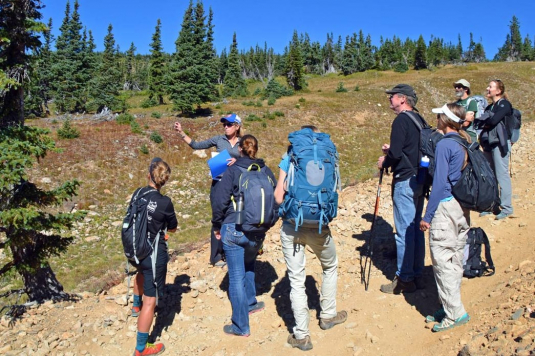 The Ecological Society of America (ESA) has awarded Katharine N. Suding its Robert H. MacArthur Award. The award honors an established, mid-career ecologist for meritorious contributions to ecology, in the expectation of continued outstanding ecological research. Award winners generally are within 25 years from the completion of their PhDs.
Suding, fellow of the Institute of Arctic and Alpine Research and professor of ecology and evolutionary biology, is a leader in community ecology. She applies empirical and theoretical approaches to address fundamental and applied problems faced by ecological communities in today's changing world. She has impacted the field of ecology not only through her numerous publications, but also through the students and postdocs she has mentored, and through her leadership in interdisciplinary collaborations.
Suding's work in grassland and alpine ecosystems demonstrated how species' traits affect the persistence and abundance of species in response to environmental stressors, many of which are related to human activities such as nitrogen deposition, grazing, and changes in rainfall. Her work in alpine systems has revealed the mechanisms by which alpine communities respond to climate change, particularly the role of plant-soil feedbacks. Her research focuses on community assembly and response to environmental perturbations, and the implications for restoration and management. She has taken many leadership roles in interdisciplinary collaborations to investigate patterns and processes within and among ecosystems. She addresses both fundamental and applied problems in ecology, using empirical and theoretical approaches to understand how communities work.
Suding received her PhD from the University of Michigan in 1999. She has since mentored many graduate students and postdocs who now have successful careers in academic institutions, and in agencies and NGOs doing practical work in restoration and landscape management. The Suding Lab gathers graduate students, postdocs, and visiting scholars to apply cutting-edge "usable" science to the challenges of restoration, species invasion, and environmental change in partnership with conservation groups, government agencies and land managers. At CU, she teaches courses in Restoration Ecology, where students collaborate with managers to solve problems in Boulder Open Space, as well as an interdisciplinary collaboration about historic apple trees in Boulder.
Suding has contributed to more than 140 articles and co-edited two books, and leads CU's Niwot Ridge Long-Term Ecological Research Program. She has cultivated the curiosity that feeds her own research in students and collaborators, emphasizing the need to combine basic and applied research in our changing world.
The ESA will present Suding with the award at their Annual Meeting in New Orleans, Louisiana, in August. She will prepare an address to present at the meeting and for publication in the journal Ecology.