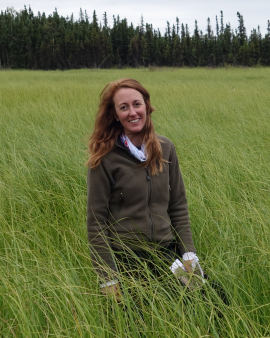 Ecologist and carbon cycle scientist Merritt Turetsky has been named the director of INSTAAR and will step into her new role in January. Vice Chancellor for Research & Innovation Terri Fiez appointed Turetsky following the recommendation of the INSTAAR Directorate.
INSTAAR interim director Gifford Miller said, "Merritt Turetsky was the unanimous choice of the INSTAAR Directorate to become the new director of the Institute following an international search. She brings expertise in peat-dominated permafrost regions of the Arctic that provides new connections with established research expertise within INSTAAR."

Turetsky conducts fundamental research addressing interactions between northern ecosystems and climate that also is relevant to carbon regulation and policies. She and her students use a variety of approaches, from long-term experiments and paleoreconstructions to remote sensing and simple models, to better understand the resilience of northern communities and ecosystems to environmental change. A self-proclaimed "fire chaser," much of her work investigates disturbances such as wildfire and permafrost thaw, and how these events are affecting the landscape, food security, and water quality for people in the North.

She is currently associate professor and holds a Canada Research Chair in the Department of Integrative Biology at the University of Guelph. Turetsky has played leading roles in the Permafrost Carbon Network, NASA's ABoVE campaign, and the recently formed Canadian Permafrost Association. She sits on the executive committees of several international research networks and is a senior scientist with the Bonanza Creek LTER Program. She is also a Web of Science Highly Cited researcher, ranking in the top one percent of her field by citations.


A gifted communicator, Turetsky created and hosts the Science Unscrambled segment on CTV's Your Morning Program in Canada. She recently was selected as a AAAS Leshner Science Engagement Fellow.
"Merritt brings an inspiring vision for the future of INSTAAR and we couldn't be more excited about her arrival in January," says Fiez.
Turetsky plans to immerse herself in the make-up of INSTAAR and sister institutes like CIRES during her first months. "I will be doing a lot of talking and brainstorming with people, and I know that together we will chart a forward-thinking path for INSTAAR that connects our collective values with strategic goals," says Turetsky. "What do we stand for? What is important to us as academics, mentors and teachers, communicators, and as people? There has never been a better time to align values with research vision. Doing so will ensure that our research has the most impact to help people."

INSTAAR is CU Boulder's oldest research institute, with historic strengths in polar and alpine regions. Current research topics address environmental challenges that span local, regional, and global scales, and include Quaternary and modern environments, human and ecosystem ecology, biogeochemistry, landscape evolution, hydrology, oceanography, and climate.

"What excites me most is the opportunity to work with a group of people that encompass such diverse research topics but who are knitted together by a common way of thinking about Earth systems," said Turetsky. "I am honored to join a broad academic community at CU that values interdisciplinary work and community building."