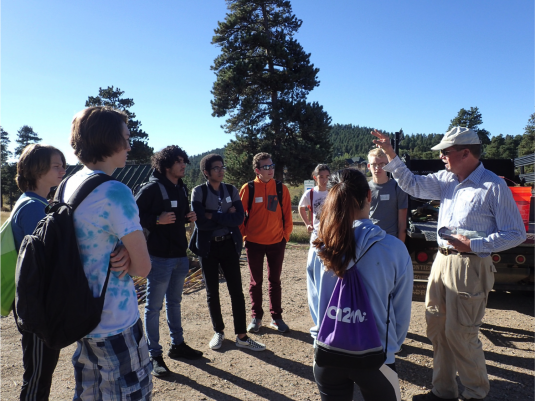 Professor Timothy Seastedt has been selected as the recipient of the 2019 Chase Faculty Community Service Award. The award is sponsored by an endowment from the Chase Corporation through the CU Foundation, and given to a full-time CU System faculty member who, in addition to university responsibilities, has provided exceptional educational, humanitarian, civic or other service in the community pro bono.
Seastedt is an INSTAAR fellow and professor in the Department of Ecology and Evolutionary Biology. He was selected by a committee of former Chase award recipients for his service contributions to the people of Colorado.
Seastedt leads outreach activities that engage youth from Front Range communities, CU students, and stakeholders in active conservation and restoration efforts that enhance the resilience of the Front Range as it responds to climate change and other environmental drivers. He is a frequent partner of Wildlands Restoration Volunteers, Boulder Open Space and Mountain Parks, and US Forest Service in science outreach to K–12 students in the Front Range and beyond.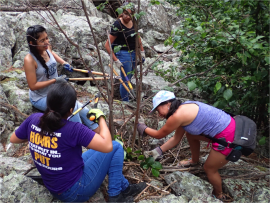 A typical recent outreach activity in 2018 found Seasteadt engaged in a program for 250 middle- and high-school students working on wildland restoration projects through Wildlands Restoration Volunteers. Seastedt and CU graduate students provided "the science behind the doing" at restoration projects, emphasizing the value of a "fire-ready Front Range." They showed students the conservation and ecosystem service values of activities that mitigate threats to the sustainability of the Colorado Front Range related to environmental and climate change, and how restoring a landscape can benefit human well-being.
Seastedt is hoping to build on that activity this spring by sponsoring youth leadership training that will enable ten high school juniors and seniors to be crew leaders of a riparian restoration project carried out by Wildlands Restoration Volunteers. With an explicit focus on diversity, the project offers student leaders experiential learning, mentorship, skills, and resources as they direct groups of fellow students through restoring a floodplain. If the project proceeds as planned, it will restore a section of floodplain on public lands that was damaged by the 2013 floods.