INSTAAR graduate student Alia Khan is blogging from one of the most remote field sites in the world. She is sending posts to the New York Times "Scientists at Work" series from a campsite in the McMurdo Dry Valleys of Antarctica.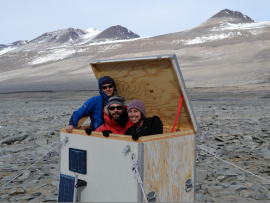 Khan is a member of the "Stream Team," a changing group of researchers who study water and ecology in the cold desert on the shore of McMurdo Sound. The Stream Team is led by Khan's adviser Diane McKnight (INSTAAR and Civil, Environmental and Architectural Engineering), who has been working in Antarctica for over 20 years as part of the Long-Term Ecological Research program. Khan is working as a field hydrology research assistant, measuring the flow of ephemeral summer streams. She is living in the Dry Valleys over the austral summer, from late October through January.
In the Dry Valleys, glacier-fed streams that flow only during the summer transport reactive chemical elements to lakes and stream basins, providing critical nutrients. Life is present in this harsh environment, but is usually limited to microbes: diatoms, cyanobacteria, and green algae.
Khan, who is earning a master's degree from CU, reveals the everyday details of life during a long-term field project, including routines, challenges, and moments of sheer beauty. Researchers ride helicopters or hike miles to check stream gauges; chip drinking water from frozen lakes; and collect wastewater, including dishwater and urine, in 50-gallon drums for transport out of the pristine environment.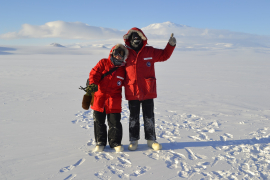 In her first post, Khan describes her first camping experience in Antarctica. After a teammate had a hot water spill in the tent, they hiked two kilometers through howling wind for a dry sleeping bag: "As we walked, the sun crested over the horizon as fine snow blew across the hard-packed snow below it. In the background Mount Erebus (an active volcano) protruded through clouds in the distance. It was one of the most majestic walks of my life, despite the chilling temperatures."
Khan contacted the Times after seeing an INSTAAR postdoctoral researcher's video on a Times science blog. "Mike SanClements wrote a Dot Earth post last year," she writes from the Dry Valleys, "and that inspired me to try to do something when I came down this year." She will post to the Scientists at Work series half a dozen times over a month-long period.