The Sundance Film Festival announced Wednesday that the film Chasing Ice has been selected for its 2012 slate. The film will have its world premiere in Park City, Utah on Saturday, January 21.
The documentary feature, directed by Jeff Orlowski, reveals the work of photographer James Balog and his Extreme Ice Survey (EIS) project. Balog, once a skeptic about climate change, discovers through EIS undeniable evidence of a warming world. Chasing Ice features hauntingly beautiful, multi-year time-lapse videos of vanishing glaciers, while delivering fragile hope to our carbon-powered planet.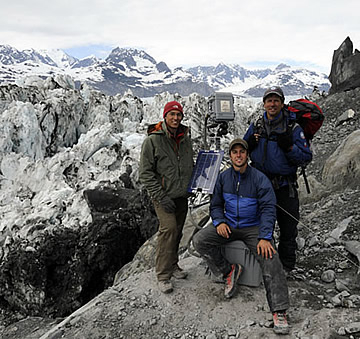 Orlowski joined the EIS team in 2007. He filmed Balog across the Arctic as EIS worked to install solar-powered, time-lapse cameras in Greenland, Iceland and Alaska. "It was a fulltime job just keeping up with James. But after a year of documenting him and his team's camera network, I knew that we had the footage to tell an important and powerful story that needed to be shared," Orlowski said.
The filmmaker formed a team of world class talent to help guide Chasing Ice, including Paula DuPré Pesmen, producer of the 2010 Academy Award®-winning The Cove, and Oscar nominee and producer Jerry Aronson (The Life and Times of Allen Ginsberg).
In addition to the global work of EIS, James Balog's photography has been widely acclaimed. He has been honored with the 2010 Heinz Award, the Leica Medal of Excellence, and the Rowell Award for the Art of Adventure, and was named "Photographer of the Year" in 2011 by PhotoMedia magazine. The author of seven books, Balog is a sought-after lecturer who speaks on a wide-range of subjects: his appearances include a TED talk; presentations at the White House and U.S. Congress; Apple headquarters; and as an expert speaker on behalf of the U.S. State Department and NASA at COP-15, the 2009 U.N climate conference in Copenhagen. His work has been exhibited widely and published in hundreds of major magazine articles, including National Geographic, The New Yorker, Life, Vanity Fair, The New York Times Magazine, Audubon and Outside.
"I'm honored to be the subject of Jeff's first feature film, and thrilled that our years of hard work on EIS are documented in Chasing Ice," Balog said. "Our time-lapses can now reach a world stage through Sundance, where viewers can see for themselves the reality of our rapidly changing planet."