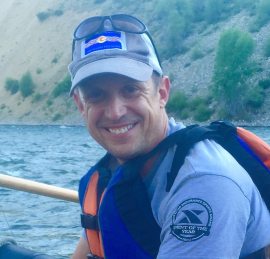 INSTAAR director Alan R. Townsend will be joining Colorado College as that institution's provost and professor of environmental science on the first of June, 2018.
During his time as director of INSTAAR, Townsend provided leadership, strategic planning around difficult topics such as science funding, and a commitment to diversity and inclusion.
Previously, Townsend spent 17 years on the faculty at CU Boulder before becoming dean of the Duke University Nicholas School of the Environment in 2014. He returned to CU Boulder in early 2017 as the associate vice chancellor for research, INSTAAR Fellow, and professor of Environmental Studies (ENVS).
Prior to his time at Duke, Townsend served as director of the Division of Environmental Biology at the National Science Foundation and the lead of CU Boulder's efforts to secure the U.S. hub of Future Earth, now located in CU Boulder's Sustainability, Energy and Environment Community (SEEC). Before that, he held various roles at CU Boulder, including director of the ENVS, professor and assistant professor in the department of Ecology and Evolutionary Biology (EBIO), and Fellow and associate director at INSTAAR. He also co-directed the national Aldo Leopold Leadership Program.
A national search will be conducted, beginning later this spring, for INSTAAR's next director.
Read more about Townsend's appointment on the Colorado College website.