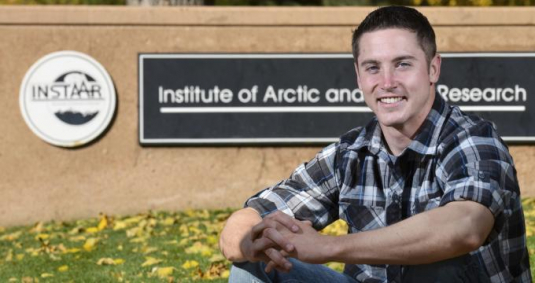 Matthew Reed didn't feel ready for college right out of high school. But after five years of military service, he felt more prepared to pursue a college degree.
"Being in the military made me disciplined," said Reed. "I'm much better prepared and in a much better situation to be in college now."
Reed, from Broken Arrow, Okla., is a sophomore majoring in geology and anthropology. Because he is an Iraq veteran, his tuition is covered by the Post 9/11 G.I. Bill.
Reed was recruited in 2006 to serve in the Honor Guard in Arlington, Va., and Washington, D.C. As a member of the Honor Guard—the Army's ceremonial unit—he escorted visiting heads of state, participated in ceremonies at the Tomb of the Unknown Soldier, and served as a member of the firing party for military funerals at Arlington National Cemetery.
In 2009, Reed was deployed to Iraq. He left active duty the following year and enrolled at CU-Boulder in January 2011.
The proximity to the mountains initially drew him to Boulder, but it is the university's outstanding academic reputation and the friendly campus atmosphere that makes CU a good fit.
As a veteran who started college a few years later than most incoming freshmen, Reed occasionally feels a disconnect between him and the students who don't have military experience.
"I sometimes feel like Billy Madison in the classroom," joked Reed, referring to the comedy film in which a grown man returns to high school as a student.
Reed is president of the Geology Club and is a research assistant with the Institute of Arctic and Alpine Research, working on a project studying marine sediments found off the coast of Greenland. He is also active with the Office of Veteran Services.
"Veterans at CU are independent and don't need someone to hold their hand," said Reed. "But the Office of Veteran Services provides a place to go when someone does need help."
A piece of advice Reed has for veteran students at CU-Boulder is to get involved on campus.
"Share your leadership experience by joining clubs or boards," said Reed. "It teaches the rest of the students about leadership and it benefits you by enhancing your résumé."