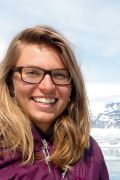 MA 2014
Graduate Research Assistant, Niwot Ridge LTER
Science Squad Teacher, Biological Sciences Initiative, CU Boulder
Departments
Education
BS Environmental Science: University of New Mexico, 2011
BA Latin American Studies: University of New Mexico, 2011
Contact Information
Specialty
Nutrient cycling in alpine environments, water quality, climate variability.
Active Research
Research Programs
Featured

Publications

Ladwig, L. M., Ratajczak, Z. R., Ocheltree, T. W., Katya Hafich, Amy Churchill, Frey, S. J. K., Fuss, C. B., Kazanski, C. E., Munoz, J. D., Petrie, M. D., Reinmann, A. B., Smith, J. G. 2016: Beyond arctic and alpine: The influence of winter climate on temperate ecosystems. Ecology, 97(2): 372-382. DOI: 10.1890/15-0153.1
Theses & Dissertations
Of microbes and men: Determining sources of nitrate in a high alpine catchment in the Front Range of Colorado and science outreach on alpine hydrology. Katya Hafich. University of Colorado Boulder, MA, 2014.