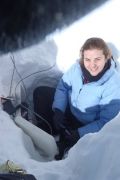 MA 2012 in Geography; Now Hydrologist with SSP&A
Departments
Education
B.A.: University of California at Los Angeles, 2010
Contact Information
Specialty
Snow and mountain hydrology, snowpack modeling, climate change.
Bio
Now a Hydrologist with S.S. Papadoulos & Associates, Inc.





Photo Gallery
Research Statement
Active Research
Research Labs and Groups
Featured

Publications

Leah Meromy, Noah P. Molotch, Williams, M. W., Keith Musselman, Kueppers, L. M. 2015: Snowpack-climate manipulation using infrared heaters in subalpine forests of the Southern Rocky Mountains, USA. Agricultural and Forest Meteorology, 203: 142-157. DOI: 10.1016/j.agrformet.2014.12.015

Noah P. Molotch, Leah Meromy 2014: Physiographic and climatic controls on snow cover persistence in the Sierra Nevada Mountains. Hydroloigcal Processes, 28(16): 4573-4586. DOI: 10.1002/hyp.10254
Theses & Dissertations
Subalpine snowpack-climate manipulation and modeling experiment at Niwot Ridge, CO and Valles Caldera National Preserve, NM. Leah Meromy. University of Colorado Boulder, MA, 2012.
Teaching Statement
Postdocs & Students