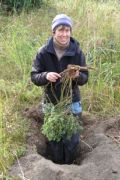 INSTAAR Affiliate
Ecologist, Southwest Alaska Network, National Park Service
Contact Information
Specialty
Plant community ecology and watershed biogeochemistry, particularly in alpine environments.
Featured

Publications

Carlson, M. L., Lipkin, R., Roland, C., Amy Miller 2014: New and important vascular plant collections from south-central and southwestern Alaska: A region of floristic convergence. Rhodora, 115(961): 61-95. DOI: 10.3119/11-20

Amy Miller, Bill Bowman 2003: Alpine plants show species-level differences in the uptake of organic and inorganic nitrogen. Plant and Soil, 250: 283-292.