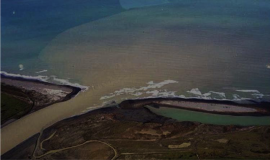 Our lab's research focuses on the transport of sediment, particulate organic matter, and other particles in coastal ocean environments, and how that influences biogeochemial cycles and geomorphology. We do this by developing and using numerical models. We work in a variety of coastal environments, including continental shelves, estuaries and wetlands.
Water quality, global biogeochemical cycles, geomorphic change, and interpretation of the geologic record are all impacted by when, where, and how much sediment and nutrients move through the coastal ocean. Our research can thereby provide insight into societal issues such as water quality management, managing carbon budgets, coastal flooding, and habitat for coastal and marine species.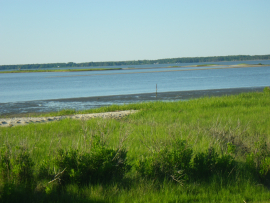 The movement and fate of material can be difficult to predict because of the many processes that are involved. Use of numerical models, such as the Regional Ocean Modeling System (ROMS), allows us to analyze temporal and spatial variability of biogeochemical and sedimentary processes, as well as the extent to which different processes affect sediment and nutrient transport in the coastal ocean.
How to Join
Prospective post-docs, graduate students, and undergraduate students interested in joining the Coastal Oceanography research group should e-mail Julia Moriarty (Julia.Moriarty@colorado.edu) with a brief statement about why you are interested, a resume or CV, and (prospective graduate students only) a copy of your unofficial transcript(s). I'm happy to chat about ongoing projects, the potential for funded positions, or crafting proposals for fellowships such as the NSF Ocean Sciences Postdoctoral Research Fellowships, NSF Graduate Research Fellowship, or CU's UROP program, pending student motivation and interest. Lab members may come from a variety of backgrounds including geoscience (including oceanic and atmospheric science), other science fields (physics, math, chemistry, etc.), engineering (environmental, civil, etc.), or less-traditional fields.