News 2013-2012
Study Finds Climate Link to Atmospheric-River Storms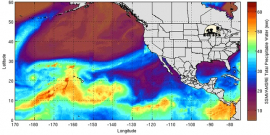 November 12, 2013. A new NASA-led study of atmospheric-river storms from the Pacific Ocean may help scientists better predict major winter snowfalls that hit West Coast mountains and lead to heavy spring runoff and sometimes flooding. Atmospheric rivers -- short-lived wind tunnels that carry water vapor from the tropical oceans to mid-latitude land areas -- are prolific producers of rain and snow on California's Sierra Nevada mountains. The finding, published in the journal Water Resources Research, has major implications for water management in the West, where Sierra runoff is used for drinking water, agriculture and hydropower.
---
Enhancing Estimates of Water Supplies and Seasonal Availability

October 29, 2013. The reconstructed Sierra Nevada, California snow water equivalent (SWE) product and interactions with the California Department of Water Resources forecasters were featured in NASA's Earth Science Applied Sciences Program 2012 annual report. "An Applied Sciences project is working with the California Department of Water Resources (CDWR) to assess applications of MODIS snow cover data to improve water supply forecasting. Estimating the amount of water stored in snow (snow water equivalent, or SWE) helps inform seasonal water availability. Typically, hydrologists measure mountain SWE at middle elevation locations using snow pillows, which are large bladders that measure the weight of the overlying snowpack. Such measures provide detailed information at point locations."
---
Important study about SNOTEL spatial representativeness published in Hydrological Processes paper
July 18, 2013. The spatial distribution of snow water equivalent (SWE) is a key variable in many regional-scale land surface models. Currently, the assimilation of point-scale snow sensor data into these models is commonly performed without consideration of the spatial representativeness of the point data with respect to the model grid-scale SWE. (Paper can be found in Hydrological Processes, DOI: 10.1002/hyp.9355, 2013)
---
Niwot LTER researchers using satellite to study snowpack in the Rockies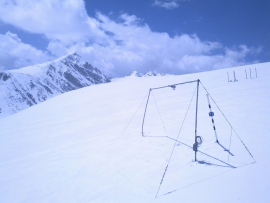 July 2, 2013. A group of researchers at the Niwot Ridge (NWT) Long Term Ecological Research (LTER) program are using an innovative new research approach to evaluate snowpack conditions across the Rocky Mountain region. Led by Noah Molotch, the group is employing remote-sensing from satellites and automated depth sensors at various elevations on Niwot Ridge to measure the snowpack to augment the existing snow measurement network now used by water managers.
---
New paper examines turbulent fluxes in an energy balance snowmelt model in Niwot Ridge forests
April 3, 2013. Turbulent fluxes of sensible and latent heat are important processes in the surface energy balance that drives snowmelt. Modeling these fluxes in a forested environment is complicated because of the canopy effects on the wind field. This paper presents and tests a turbulent flux model developed to represent these processes in an energy balance snowmelt model. (Paper can be found in Water Resources Research, doi:10.1002/wrcr.20073, 2013)
---
Molotch presents at the Center for Science & Technology Policy Research series
March 7, 2013. Noah Moloch presented "Ecohydrological Vulnerability to Changes in Climate and Land Use in the Rocky Mountains". The talk was designed for non-hydrologists and was delivered like a 101 course covering the group's latest snow hydrology research and related water issues in the Rocky Mountain region.
View live webcast | Read abstract
---
Harpold paper highlighted in EOS Research Spotlight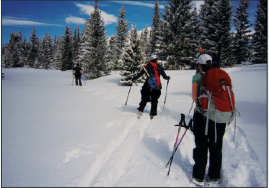 January 8, 2013. The freshwater supplies of the American West rely, for the most part, on snow. The Colorado River, the Rio Grande, and other rivers in the intermountain west—bounded by the Sierra Nevada and Cascade mountains to the west and the Rockies to the east—are the main sources of water for one of the driest parts of the continent, and their flows are predominantly fed by the spring- time melt of snow accumulated over the winter. (Paper can be found in Water Resources Research, doi:10.1029/2012WR011949, 2012)
---
Paper documents new spectral snowpack profiler probe
November 7, 2012. We present a portable spectral profiler probe to measure snow grain size stratigraphy in mountain snowpack at up to 5 mm vertical resolution, without the need for snow pit excavation. The probe infers grain size using near-infrared reflectance spectroscopy by inserting into the snowpack an optical package consisting of a light source and fiber optic receiver, which views the snow laterally and sends the collected reflected light to a spectrometer at the surface.
---
Leah Meromy defends her master's thesis
October 30th, 2012. Leah Meromy, a student at the University of Colorado at Boulder Geography Department and Hydrologic Sciences graduate program successfully defended her master's thesis. Her advisors are Noah Molotch (chair), Mark Williams, and Peter Blanken. The title of her thesis is "Subalpine snowpack-climate manipulation and modeling experiment at Niwot Ridge, CO and Valles Caldera National Preserve, NM".
---
Danielle Perrot defends her master's thesis
October 11th, 2012. Danielle Perrot, a student at the University of Colorado at Boulder Geography Department and Hydrologic Sciences graduate program successfully defended her master's thesis. Her advisors are Noah Molotch (chair), Mark Williams, and Suzanne Anderson. The title of her thesis is "Nitrate export response to spatially distributed snowmelt in alpine catchments".
---
Western snow is mother nature's drip irrigation system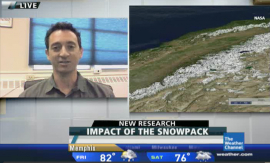 September 28th, 2012. Live interview on the Weather Channel. "Effectively what we've measured is the greeness or how the forest conducts photosynthesis each spring and summer period and we've related that to the amount of snow we get each winter preceeding that. We are looking at mother nature's drip irrigation system, which starts with the snowpack in the western United States, snow melt is providing water to the forest throughout the growing season."
---
Blended observations and models of snow water equivalent for water resource applications
September 27, 2012. Talk presented at the remote sensing workshop in San Diego sponsored by the Environmental Defense Fund, the Water Education Foundation, and the California Water Foundation. The workshop focused on highlighting water management needs for which remote sensing could add capacity or efficiency. The workshop was attended by water managers, technical experts, and academics.
---
CU-led mountain forest study shows vulnerability to climate change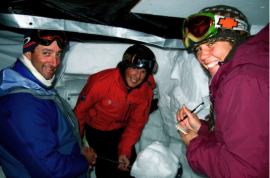 September 10th, 2012. A new University of Colorado Boulder-led study that ties forest "greenness" in the western United States to fluctuating year-to-year snowpack indicates mid-elevation mountain ecosystems are most sensitive to rising temperatures and changes in precipitation and snowmelt.
---
Keith Musselman publishes paper on the influence of canopy and solar irradiance on snowmelt rates
August 15, 2012. Sub-canopy snow ablation rates were measured for three years at forested research plots in the Sierra Nevada, California with a network of 24 automated snow depth sensors and monthly snow density surveys.
---
Adrian Harpold joins Mountain Hydrology Group as a postdoctorate fellow
August 1, 2012. Adrian is pursuing an NSF Earth Sciences Postdoctoral Fellowship to improve our understanding of snow-vegetation interactions in land surface models. He jointly works with Noah Molotch at INSTAAR and David Gochis at NCAR. This work will focus on sites within the Boulder Creek CZO, but also include work in the Southern Sierra CZO and Jemez River Basin-Santa Catalina Mountains CZO.
---
SEE MORE NEWS