News 2017-2016
Congratulations to group member "Dr." Theodore Barnhart on his PhD dissertation defense
December 19, 2017. Congratulations to group member Dr. Theodore Barnhart on his defense of The Response of Streamflow and Evapotranspiration to Changes in Snowmelt across the Western United States. Snowmelt rate, timing, and amount are forecast to change under future climate, potentially altering streamflow and evapotranspiration patterns. This dissertation investigates the relationship between snowmelt rate, timing, and amount and runoff or streamflow at the plot and regional scales across the western United States. Theo has taken a permanent position as a Physical Scientist at the USGS Wyoming-Montana Water Science Center in Helena, Montana. He primarily works as part of the National Hydrologic Model and Stream Stats teams and is interested in bringing new, predictive products to local cooperators.
Visit Chapter 4 publication link >
---
New group paper offers insights into how snow water resources may respond to climate change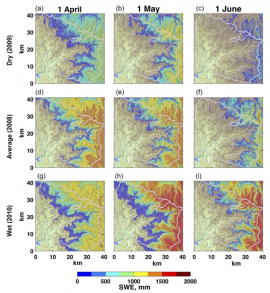 December 11, 2017. The Musselman, Molotch and Margulis paper published today in The Cryosphere evaluates how melt rates in the California Sierra Nevada respond to a range of warming projected for this century. Snowfall and melt were simulated for historical and modified (warmer) snow seasons. Winter melt occurs more frequently and more intensely, causing an increase in extreme winter melt. In a warmer climate, less snow persists into the spring, causing spring melt rates to be substantially lower. The results offer insight into how snow water resources may respond to climate change.
---
Congratulations to group member "Dr." Alice Hill on the defense of her PhD dissertation

November 13, 2017. Congratulations to group member Dr. Alice HIll as she defended her PhD dissertation, Rapid assessment of hydrologic controls on mountain water resources. Alice's research is initially informed by headwater scale streamflow separation work at the Niwot Ridge Long Term Ecological Research site in the Colorado Rocky Mountains, and is further developed via two case studies in Kyrgyzstan's Tien Shan mountains and in the Peruvian Andes. Alice has landed a post doctoral position with the CHARIS project housed at Univ of Colorado and the National Snow and Ice Data Center. She's working with an interdisciplinary team to identify water supply dependency on climate sensitive melt water sources from the glaciers and snow packs of the Pamir and Tien Shan mountains of Central Asia. Alice plans to continue pursuing work that allows her to anticipate water vulnerabilities in developing countries that rely on mountain water resources, but where environmental data records are notoriously scarce. These populations are among those that are the most vulnerable to climate change related resource stress because they lack both independent and governmental resources to anticipate and mitigate climate-related impacts to their livelihoods.
Visit Chapter 3 publication link >
---
Oliver Wigmore's glacier-mapping drone soars to nearly 5000 meters, setting a record
Video courtesy of David Malakoff and Science.
November 10, 2017. Oliver's latest paper in The Cryosphere, Monitoring tropical debris-covered glacier dynamics from high-resolution unmanned aerial vehicle photogrammetry, Cordillera Blanca, Peru just out this week was covered today in Science by David Malakoff. David put together an informative piece and video about tropical glaciers and Oliver's high-flying drone.
---
A warm welcome to new group member Keith Musselman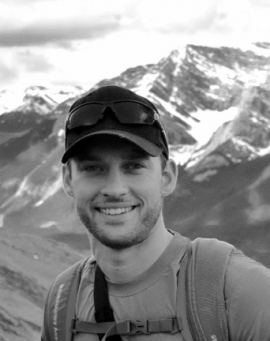 October 18, 2017. We welcome new research faculty member Keith Musselman to the Mountain Hydrology Group. Keith's research interests are on the topics of terrestrial hydrology, hydrometeorology, and remote sensing in mountainous and forested seasonally snow-covered environments. The overarching goal of his research is to evaluate the availability of freshwater in these environments and the physical mechanisms and pathways responsible for its evolution.
---
We welcome new group member and PhD candidate, Qinghuan Zhang
August 30, 2017. We welcome Qinghuan Zhang to the Mountain Hydrology Group. Qinghuan, a PhD student in Geography focusing on hydrology and water resources. She studies streamflow partioning and hydrologic modeling in mountainous watersheds.
---
RSE paper applies GRACE Groundwater Drought Index (GGDI) over CA Central Valley capturing drought delays unique to groundwater drought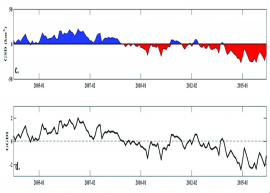 August 17, 2017. Remote Sensing of Environment paper quantitatively presents "an approach to evaluate groundwater drought occurrence based on observations from NASA's Gravity Recovery and Climate Experiment (GRACE) satellite mis- sion. Normalized GRACE-derived groundwater storage deviations are shown to quantify groundwater storage deficits during the GRACE record, which we define as the GRACE Groundwater Drought Index (GGDI)."
---
A warm welcome to new group member and PhD candidate Kehan Yang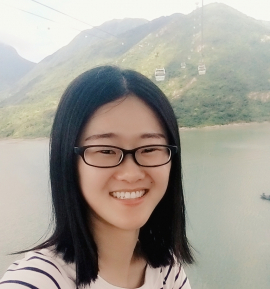 August 14, 2017. Kehan has just arrived from the Institute of Remote Sensing and Digital Earth at the Chinese Academy of Sciences in Beijing where she earned a masters degree in Cartography and Geography Information System Science. Her masters thesis is titled, Monitoring lake area dynamics on the endorheic Tibetan Plateau based on multi-source satellite data.
Visit link to see footage of Pangong Lake on the Tibetan Plateau >
---
Mtn Hydro Group joins 1000 other commuters at tube to work day on Boulder Creek
July 14, 2017. According to the Daily Camera, "About 1,000 tubers [were] ... on Boulder Creek as Tube to Work Day celebrated its 10th year today with by far the largest commute in the event's history. When Jeff Kagan and Andy Gruel took to Boulder Creek in 2008 for the inaugural Tube to Work Day, it was just the two of them. In 2017, so many people showed up that tubers had to wait in line and flash wristbands, as if Boulder Creek was the area's newest amusement park ride."
View photos of our wild ride >
---
Paper just out quantifying the sensitivity of snowpack in Mediterranean climate mountain areas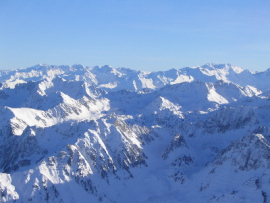 July 4, 2017. In this study we quantified the sensitivity of snow to climate warming in selected mountain sites having a Mediterranean climate, including the Pyrenees in Spain and Andorra, the Sierra Nevada in Spain and California (USA), the Atlas in Morocco, and the Andes in Chile. Meteorological observations from high elevations were used to simulate the snow energy and mass balance (SEMB) and calculate its sensitivity to climate. Very different climate sensitivities were evident amongst the various sites. For example, reductions of 9%–19% and 6–28 days in the mean snow water equivalent (SWE) and snow duration, respectively, were found per °C increase.
---
Video short showing a great application of Terrestrial Laser Scanning (TLS) to study mountain snow hydrology on Niwot Ridge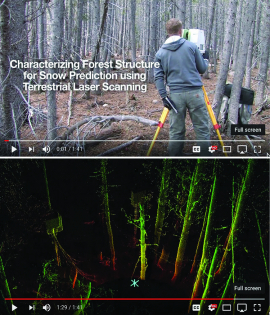 July 1, 2017. Adrian Harpold partnered with Keith Williams at UNAVCO, Inc. to perform the survey at the National Science Foundation funded Boulder Creek, CO Critical Zone Observatory (CZO) site. A Terrestrial Laser Scanning (TLS) system was used to characterize the forest structure at sites where intensive under-canopy snowpack monitoring is occurring and airborne laser scanning (ALS) has also been employed. Combining the technologies allowed a better estimate of forest structure and snowpack energy balance. Ultimately, this type of information can be employed to increase the effectiveness of land surface models in forested and complex terrain. For more information visit Adrian's paper here or the UNAVCO Highlight page here.
---
Just published paper by group members highlights a socio-hydro case study of water stress in the Naryn River Basin, Kyrgyzstan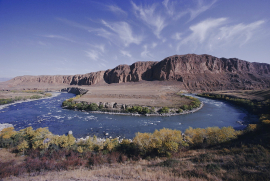 June 22, 2017. Alice Hill and Alana Wilson's new paper in the journal Water and covered in Glacier Hub's front page press release discusses how water vulnerabilities in Central Asia are affected by a complex combination of climate-sensitive water sources, trans-boundary political tensions, infrastructure deficiencies and a lack of water management organization from community to federal levels. This study aims to clarify the drivers of water stress across the 440 km Naryn River basin, headwater stem to the Syr Darya and the disappearing North Aral Sea.
---
CU Boulder scientists on skis gather snowpack data in spring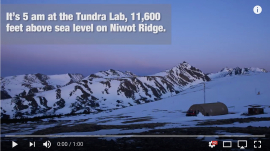 June 12, 2017. Each spring, a team of researchers from CU Boulder heads to a glacier where the city of Boulder gets its drinking water and measures the depth of snowpack. The data are used to help forecast water supplies and estimate wildfire danger for the coming year. The survey helps maintain an unbroken record of environmental data to measure climate change. http://www.colorado.edu/mrs/
---
Paper just out in Water Resources Research spotlighting our snow aridity index to predict forest productivity affected by bark beetle disturbance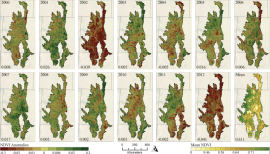 May 29, 2017. John Knowles, Leanne Lestak and Noah Molotch just published a paper comparing our snow aridity index (SAI) and snow water equivalent (SWE) to predict forest productivity. The SAI explained more variability than SWE. Multiple sources of remotely sensed and ground based information were used to evaluate the spatiotemporal variability of snowpack accumulation, potential evapotranspiration (PET), and Normalized Difference Vegetation Index (NDVI) throughout the Southern Rocky Mountain ecoregion, USA. Relationships between these variables were used to establish baseline values of expected forest productivity given water and energy inputs
---
New group paper published in Environmental Research Letters about topoclimate effects on conifer growth
May 23, 2017. David Barnard, Holly Barnard and Noah Molotch's paper published online today looks at the topoclimate effects on growing season length and montane conifer growth. Spatial variability in the topoclimate-driven linkage between forest phenology and tree growth in complex terrain is poorly understood, limiting our understanding of how ecosystems function as a whole. To characterize the influence of topoclimate on phenology and growth, we determined the start, end, and length of the growing season (GSstart, GSend, and GSL, respectively) using the correlation between transpiration and evaporative demand, measured with sapflow.
---
A warm welcome to 3 new group members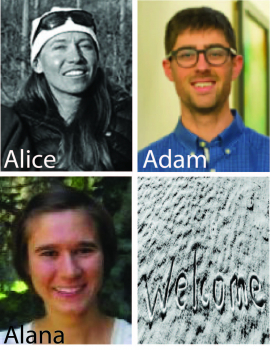 April 14, 2017. We welcome 3 new members to the Mountain Hydrology Group. Alice Hill, a PhD student in Geography who specializes in snow dominated water resource vulnerabilities in a changing climate; Alana Wilson, a graduate student in Geography who is studying climate change, water resources and the cryosphere; and Adam Wlostowski, a Postdoctoral Scholar whose interests lie at the intersection of hydrology, biogeochemistry, geology, and climatology.
---
Nature paper just published finds counterintuitive observations of slower snowmelt in a warmer world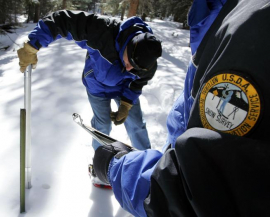 March 3, 2017. The lead author, Keith Musselman, a Mountain Hydrology Group alumni states in the Nature paper, "There is general consensus that projected warming will cause earlier snowmelt, but how snowmelt rates will respond to climate change is poorly known. We present snowpack observations from western North America illustrating that shallower snowpack melts earlier, and at lower rates, than deeper, later-lying snow-cover." In a Daily Camera article Noah Molotch, Mountain Hydrology Group director, "described Musselman's finding as particularly interesting as it shows a paradigm shift on how scientists perceive mountain snow sensitivity and how it's affected by climate."
---
NASA Earth Observatory press release highlights Mtn Hydro group near real time SWE data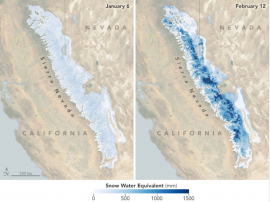 March 2, 2017. According to the press release written by Michael Carlowicz, "Snowpack on the Sierra Nevada provides one-third of the water consumed by California citizens, farmers, and businesses each year. For the first time in at least five years, there should be more than enough of it. According to the California Department of Water Resources (DWR), the water stored as snow in the Sierra Nevada range was 185 percent of the long-term average for the beginning of March. One year ago, it was 83 percent of the norm. According to the latest measurements from 98 ground-based stations, the average snow-water equivalent in the mountains was 45.5 inches as of March 1, 2017."
---
Group members are participating in new NASA SnowEx campaign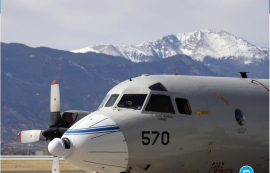 February 21, 2017. According to Dan Elliott at the Denver AP News, "Instrument-laden aircraft are surveying the Colorado high country this month as scientists search for better ways to measure how much water is locked up in the world's mountain snows — water that sustains a substantial share of the global population. A NASA-led experiment called SnowEx is using five aircraft to test 10 sensors that might one day be used to monitor snow from satellites. The goal: Find the ideal combination to overcome multiple obstacles, including how to analyze snow hidden beneath forest canopies."
---
KCBS news radio interviews Mountain Hydrology Group director, Noah Molotch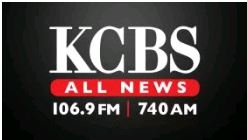 January 26, 2017. Discussions about water supply/management/storage/runoff, early snow melt, flood control, long-term drought, climate change, atmospheric rivers and wildlife habitat management.
---
Recent storms recouped 37 percent of California's five-year snow-water deficit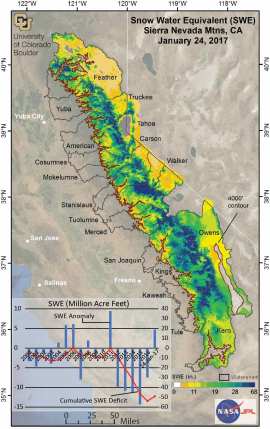 January 24, 2017. The recent "atmospheric river" weather pattern that pummeled California with storms from late December to late January may have recouped 37 percent of the state's five-year snow-water deficit, according to new research led by members of the INSTAAR Mountain Hydrology Group at CWEST. Using NASA satellite data, computer models, and ground-based snow sensors, researchers at CU Boulder's Center for Water Earth Science and Technology (CWEST) estimate that the recent storms deposited roughly 17.5 million acre feet of water during the month of January.
---
Latest paper shows high-mountain haze due to increasing wildfires in the west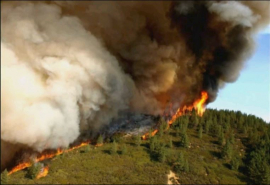 January 9, 2017. Bruce Finley wrote in the Denver Post yesterday, "The climate shift favoring droughts and more wildfires in the Western United States is leading to hazier days with reduced visibility in the high country, especially wilderness areas, where visitors seek endless blue skies."
---
Mountain Hydrology Group members will be at AGU in San Francisco next week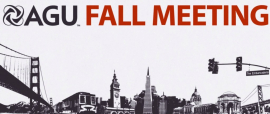 December 7, 2016. Mountain Hydrology group members will be converging on San Francisco next week for the annual American Geophysical Union (AGU) Fall meeting. Have a look at the INSTAAR Mountain Hydrology schedule to see how to connect with group members.
---
Congratulations to group member "Dr." Dominik Schneider on his PhD dissertation defense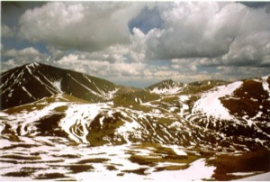 December 6, 2016. Congratulations to group member Dr. Dominik Schneider on his defense of Understanding the Distribution of Snow Using Remotely Sensed Snow Covered Area. Snowmelt makes up a large portion of the streamflow in the mountainous western United States. The spatial distribution of snow water equivalent (SWE) can affect the magnitude and timing of the spring and summer runoff represented in the hydrograph. Hence, efforts to improve our understanding of the spatial distribution of SWE are vital for good management of our ecological and water resources. This research utilizes spatio-temporal datasets to promote the use of historical observations of fractional snow covered area (fSCA) to improve estimates of SWE. Future adaptions to climate change rely on improving our understanding of the controlling processes and our ability to monitor them at the relevant scales.
Visit Chapter 2 publication link >
---
"With the satellite data you get a much more comprehensive perspective… You can then use that to translate to how much spring runoff we might expect."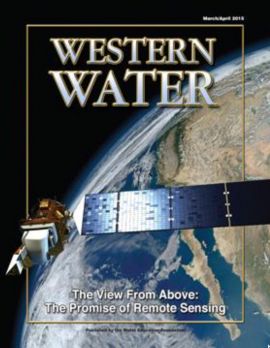 November 22, 2016. Work that the Mountain Hydrology group is doing using remote sensing to assess snowpack in western mountains is featured in the magazine Western Water in this article, The view from above: The promise of remote sensing. In the article the writer, Gary Pitzer, covers water science and the use of various forms of remote sensing technology to monitor, analyze, and better understand water in the West.
---
We welcome Oliver Wigmore as a post doctoral researcher to the Mountain Hydrology Group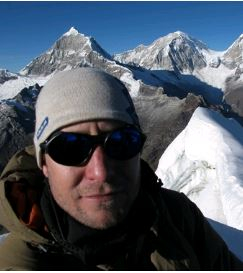 October 17, 2016. Oliver Wigmore just completed a Ph.D. at the Ohio State University Department of Geography and Byrd Polar and Climate Research Center. His research interests are primarily centered around the cryosphere, mountain hydrology and water resources, with an additional focus on the development and deployment of unmanned aerial systems (UAS) and remote sensing. His dissertation titled, Assessing Variability in Pro-glacial Soil Moisture: Integrating UAV's, Satellites and Field Hydrology in the Peruvian Andes, examines the role of soil moisture storage within the hydrologic budget of the Cordillera Blanca, Peru. His work at CU will integrate UAS datasets with field measurements to improve our understanding of dynamic ecohydrologic connections and spatiotemporal variability in the Boulder Creek watershed. He is working with Noah Molotch at the CU Earth Lab and the INSTAAR Mountain Hydrology Group. For more information visit his personal webpage.
---
Groundbreaking real-time SWE modeling improves snowpack information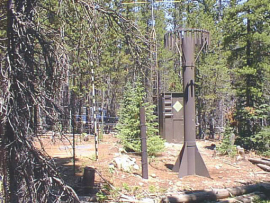 October 14, 2016. Details are in our latest paper, Real-time estimation of snow water equivalent in the Upper Colorado River Basin using MODIS-based SWE Reconstructions and SNOTEL data. Changes in climate necessitate improved snowpack information to better represent anomalous distributions of snow water equivalent (SWE) and improve water resource management. We estimate the spatial distribution of SWE for the Upper Colorado River basin weekly from January to June 2001–2012 in quasireal-time. Given that previous works using SWE reconstructions were limited to retrospective analyses by necessity, the work presented here represents an important contribution in that it extends SWE reconstructions to real-time applications and illustrates that doing so significantly improves the accuracy of SWE estimates.
---
New paper uses contact spectroscopy to solve measurement gap of seasonally-changing snow grain size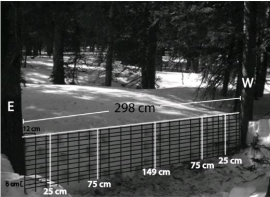 September 28, 2016. The paper, Measuring spatiotemporal variation in snow optical grain size under a subalpine forest canopy using contact spectroscopy is available from the Water Resources Research journal. The distribution of forest cover exerts strong controls on the spatiotemporal distribution of snow accumulation and snowmelt. The physical processes that govern these controls are poorly understood given a lack of detailed measurements of snow states. In this study, we address one of many measurement gaps by using contact spectroscopy to measure snow optical grain size at high spatial resolution in trenches dug between tree boles in a subalpine forest.
---
Kate Hale joins the Mountain Hydrology Team as an MA student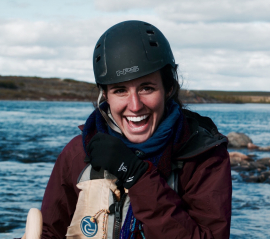 August 19, 2016. Kate will be pursuing research in snow and ice hydrology, interests originating from her upbringing in the "Frozen Tundra" of Green Bay, WI, years spent paddling Canadian arctic rivers and a B.S. in Environmental Biology from Georgetown University. Noah Molotch will be Kate's primary mentor. Kate is excited to be further integrating her love for the natural world into her academic career.
---
Streamflow decreases and forest uptake of atmospheric carbon dioxide are driven by earlier snowmelt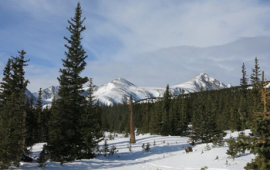 August 3, 2016. Two companion papers published today by Mountain Hydrology Group members in Geophysical Research Letters determine the effects of earlier snowmelt in the Colorado Rocky Mountains. The Barnhart, et al. paper Snowmelt Rate Dictates Streamflow and the Winchell, et al. paper Earlier snowmelt reduces atmospheric carbon uptake in midlatitude subalpine forests demonstrate the consequences of a warming climate on streamflow (Barnhart) and carbon uptake by forests (Winchell). The papers have been recognized by joint press releases at the National Science Foundation and the University of Colorado, follow the press release links to view additional content, including interviews, photos, and insights by scientists.
---
Ryan Webb joins the Mountain Hydrology Group for a postdoctoral fellowship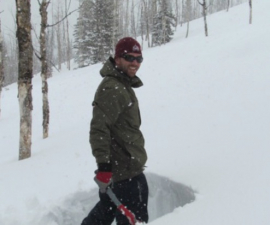 July 1, 2016. The Mountain Hydrology group welcomes Ryan Webb who just completed a Ph.D. in snow and vadose zone hydrology at Colorado State University. Ryan is an NSF Postdoctoral Fellow and will be mentored by Noah Molotch and Mark Williams here at INSTAAR along with Dr. Stefan Finsterle of Lawrence Berkeley National Labs. The title of his postdoctoral research project is New approaches to address scaling issues for lateral flow of water in a layered snow pack.
---
Taylor Winchell defends his master's thesis
May 10, 2016. Today Taylor Scott Winchell successfully defended his master's thesis Changing Snowpack Dynamics: Phase Predictions and Forest Implications which was submitted to the Faculty of the Graduate School of the University of Colorado in partial fulfillment of the requirement for the degree of Masters of Science at the Department of Civil, Environmental, and Architectural Engineering.
---
Noah Molotch speaks to The Desert Sun, "... how are we going to manage the infrastructure that is not adapted to the new regime ..."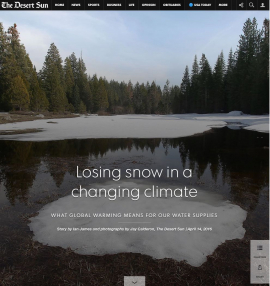 April 14, 2016. A very interesting and comprehensive analysis of climate change and snow in the western U.S. Losing snow in a changing climate: What global warming means for our water supplies. Story by Ian James and photographs by Jay Calderon, The Desert Sun, April 14, 2016.
---
Colorado and Utah Scientists Study Colorado Mountain Streamflow in a Warming Climate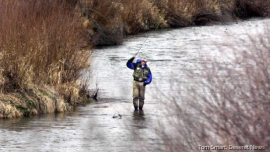 April 12, 2016. In snow-dominated mountain regions, a warming climate is expected to alter two drivers of hydrology: (1) decrease the fraction of precipitation falling as snow; and (2) increase surface energy available to drive evapotranspiration. This study uses a novel integrated modeling approach to explicitly separate energy budget increases via warming from precipitation phase transitions from snow to rain in two mountain headwaters transects of the central Rocky Mountains.
View Paper | Read Press Release
---
John Knowles Joins the Mountain Hydrology Group as postdoctoral researcher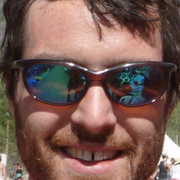 September 11, 2016. We welcome John Knowles as a new postdoctoral researcher in our group. John received his PhD from the University of Colorado in 2015 and his research during that time was broadly focused on the exchange of water vapor and carbon dioxide between Earth's surface and the atmosphere using eddy covariance, chamber, gradient method, and isotopic techniques. During his tenure with the Mountain Hydrology Group, he's looking forward to incorporating Geographical Information Systems (GIS) and remote sensing techniques into his research program at the nexus of hydrological, biological, and atmospheric processes. In his free time, John also enjoys skiing, cooking, gardening, and spending time with his family.
---
SEE MORE NEWS