The ocean biogeochemistry research group conducts modeling and observational studies in all aspects of modern-day ocean biogeochemistry. Our goals are threefold:
To understand the mechanisms that control the distributions of biogeochemical constituents in the ocean,
To study the ocean biogeochemical response to climate change and climate variability, and
To quantify feedbacks between ocean biogeochemistry and the climate system.
Our research is primarily focused on the ocean carbon cycle, one of the most important biogoechemical cycles in the ocean. In particular, we study the connection between the ocean carbon cycle and the atmospheric carbon dioxide (CO2) concentration. As the ocean contains 60 times more carbon than the atmosphere, it exerts a dominant control on atmospheric CO2. Biological and physical processes act together to control the distribution of carbon in the ocean, and therefore the flux of CO2 between the ocean and the atmosphere.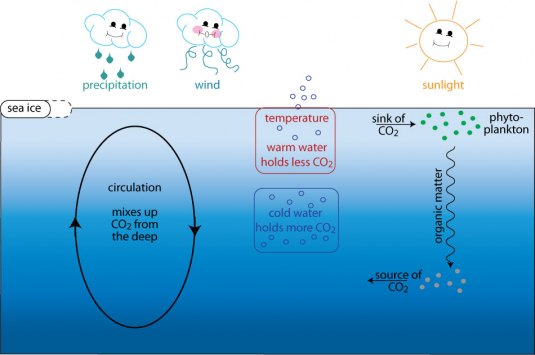 Our beliefs