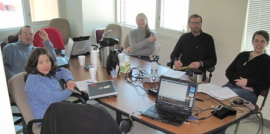 We're just wrapping up our Pico/Summit/Toolik Lake workshop at Michigan Technical University. It's been very beneficial to compare notes and see each others' work.
Our discussions have been intensive. Each scientist has explained their work, the scientific and technical challenges they face, and where they are going from here. Their colleagues carefully evaluate alternate approaches, ask about methods, and generally poke around trying to figure out if they have left any stone unturned.
We are all returning home with lots of work to do...