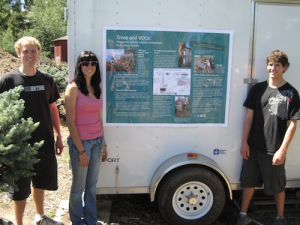 We measured VOC emissions from one or two new tree species each week at CreekSide throughout the spring and summer. We focused on deciduous trees in their different stages: leafing out, flowering, and fully leafed. Our rainy summer allowed us to collect data in many different conditions. Species include aspens, maples, oaks, and crabapples, all popular choices for Front Range yards and landscapes.
We hung a poster about our research on the trailer at Creekside, explaining what our experiment is about and how it works. Drop by the nursery to see it, or have a look.
We are one of many groups looking at tree selection as a method for environmental management. As well as our partner, the City of Boulder Urban Forestry section, we recently connected with the Denver-based nonprofit Institute for Environmental Solutions. Their Tree Project seeks to identify how trees can be used to enhance energy and water conservation, carbon sequestration, and air quality.