We have now collected a full year's worth of observations from our experiment at CreekSide Tree Nursery. With measurements taken every few minutes, that is a lot of data. Ryan is starting to crunch the numbers now.
We are continuing to collect data as we move into full summer and the deciduous trees leaf out fully. It is interesting to see the trees' reactions to spring storms and winds.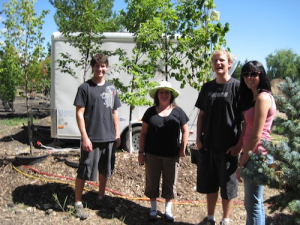 In June, we received funding to support three students this summer as part of an Undergraduate Research Opportunities Project (UROP). UROP projects create research partnerships between faculty and undergraduates. We are excited to engage Christopher Borke, Carly Baroch, and Erik Ware in the research process. They will be studying biogenic volatile organic compounds emitted from urban trees to assess the impact of planting of a high number of these trees through the City of Denver Mile High Million tree planting program. Trees species to be considered include Sugar Maple, Ohio Buckeye, Frontier Elm, Northern Hackberry, Turkish Hazelnut, Littleleaf Linden, London Planetree, American Basswood, and Japanese Zelkova. Trees will subjected to a branch enclosure experiment, in which volatile organic emissions released by their foliage will be captured on adsorbent tubes. Samples will subsequently be analyzed by a gas chromatography technique in INSTAAR's Atmospheric Research Laboratory. Individual compounds and their emission rates will be identified using standard protocols that have been established. The emissions data and literature on compound reactivities and atmospheric production products will then be used to develop a comparison of these tree species and their impact on the urban atmosphere. This research will provide improved data and criteria to help urban foresters directing the planting of trees in the Colorado Front Range urban areas. In particular, this information will be beneficial for the tree selection and tree planting strategy for The Mile High Million program underway in the City of Denver.
The Institute for Environmental Solutions hosted a workshop in May, "Guidelines for Community Forestry Carbon Credit Projects" through its Tree Project. Shelly, our outreach person, attended to gather ideas about how we can package our data to be of use to city and state foresters, city and regional planners, large landowners, and community organizers. She reports, "It's exciting to see people we've only been in touch with online before now."