Ice sticks and isotopes: The Continuous Flow Melt System
We have developed a new technique for extracting a very high-resolution paleoclimate record from ice cores.
Previous methods for gaining isotopic measurements from ice cores involved carefully sawing the core into half-inch slices. Each slice was analyzed, yielding approximately 24 to 50 samples per meter of ice. The new method yields more than 2,400 isotopic values per meter, an improvement of two orders of magnitude. Virtually any isotopic signal preserved in the ice can be captured.
How it works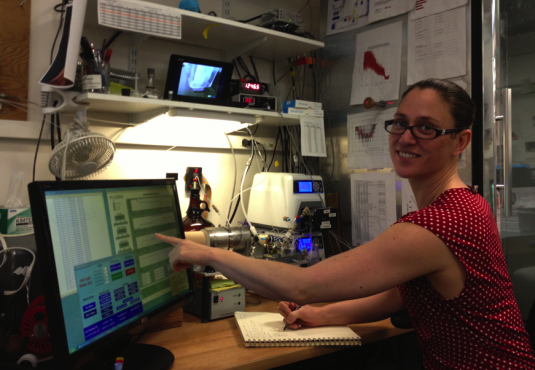 A 1-meter stick of ice is slowly melted on a melt head in a freezer at a rate of about 2 centimeters per minute. The resulting water is carried by peristaltic pumps to the rest of the system, where it is analyzed in a Picarro laser-based cavity ring down spectrometer (CRDS).