Resources
New books in the INSTAAR Library
Drop by RL-1 269 to check out one of these beauties.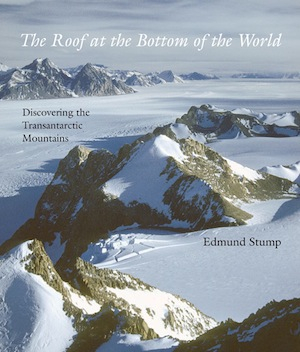 The roof at the bottom of the world: Discovering the Transantarctic Mountains
by Edmund Stump, 2011
Edmund Stump is the first to show us this continental-scale mountain system in all its beauty and desolation, and the first to provide a comprehensive, illustrated history of the region's discovery and exploration (including by IGY scientists).
Understanding sea-level rise and variability
edited by John A Church et al., 2010
Expert contributions identify major impacts of sea level rise, assess past changes, explore the factors contributing to sea level rise, and explore how extreme events might change.
Global environmental change: Modelling and monitoring
by Kirill Kondratyev, Vladimir Krapivin, and Gary Phillips, 2010
This book describes a simulation system for comprehensive analysis of data from global and regional monitoring systems. It aims to develop a universal information technology to estimate the state of environmental subsystems functioning under various climatic and anthropogenic conditions.
Informing an effective response to climate change
by National Research Council, 2010
Global climate change is one of America's most significant long-term policy challenges. This book assesses activities, products, strategies, and tools for informing decision makers about climate change and helping them plan and execute effective, integrated responses. It discusses who is making decisions at various levels, who should be providing information, and how that information should be provided. While most existing research has focused on the physical aspect of climate change, this book employs theory and case study to describe the efforts undertaken so far and to guide the development of future decision-making resources.