Resources
New INSTAAR Library books
Finals are over and it's a good time to pick up some summer reading. Try one of these eye-opening new items from the Library: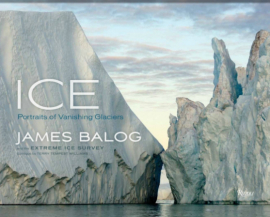 Ice: Portraits of vanishing glaciers
by James Balog, 2012
A kaleidoscopic view of remote arctic and alpine landscapes, this book features some of the best images from the million-item Extreme Ice Survey photo archive. It celebrates the art and architecture of ice and shows the often dramatic changes to glaciers around the world.
Climate change and climate modeling
by Michael E. Mann, 2012
After appearing in a 2001 UN report on climate change, the Hockey Stick quickly became a central icon in the "climate wars." The real issue was never the data but rather its implied threat to those who oppose restraints to protect the environment and planet. Mann, lead author of the original paper in which the Hockey Stick appeared, shares the story of the science and politics behind this controversy.
Geological Field Techniques
by Angela Coe, 2010
This text explains how to make effective field observations and record them in suitable formats. There are substantial chapters on producing a field notebook, collecting structural information, recording fossil data and constructing geological maps.
Ahtna travel narratives: A demonstration of shared geographic knowledge among Alaska Athabascans
by Jim McKinley, Frank Stickwan, Jake Tansy, Katie John, Adam Sanford, and James Kari, edited by James Kari, 2010
By any measure, the Athabascans are among the world's foremost pedestrian foragers. These travel narratives by five Ahtna experts are walking tours of nearly 1,200 miles of traditional routes and trails in the Ahtna language area. The narratives demonstrate the precise imagery and landscape classification of Ahtna place names and riverine directionals—the system of profound geographic knowledge that has facilitated travel and spatial cognition in Ahtna and other Athabascan languages. An unusual format reads as travelogue, diary, and poetry at once; an audio disc is included.