Program
This years' Workshop is online, mostly from 9am - 3pm Mountain Time, Thursday to Saturday (to help accommodate attendees across timezones).

Attend live 3-minute lightning talks, each with 5-minute Q/A on Zoom. No posters.

Each lightning talk has a more detailed 10-minute video for registrants to view anytime in the week before the Workshop or until 01 May 2021.

---
Program & abstracts
Link to a "dynamic" program has been emailed to attendees
This program includes links to each talk's 10-minute video. If you registered but did not receive the link, email us at ArcticWS@colorado.edu
Program PDF
Printable program (12 pages).
Program & Abstracts PDF
low resolution (15 MB, 163 pages)
Program & Abstracts PDF
high resolution (137 MB, 163 pages)
3-minute lightning talks
Thursday – Saturday, 15–17 April
The speaker will begin with a live, 3-minute summary talk, using a maximum of 3 slides. Attendees can then ask live questions. The questions and answers (Q/A) will last 5 minutes.
Live Zoom talks, Mountain Time:
Thursday am 9:00am–12:00pm
Thursday pm 1:00pm–3:00pm
Friday am 9:00am–12:00pm
Friday pm 1:00pm–3:00pm
Saturday 9:00am–11:00am
10-minute videos
Available starting 08 April
Each lightning talk has a more detailed 10-minute pre-recorded video. View videos anytime on your own in the week before the workshop or until 01 May 2021. Most videos will show about 10 slides but there is no limit other than 10 minutes total duration.
Thematic sessions
There are no a priori formalized topics. The program will be organized into thematic sessions developed from submitted abstracts as well as selected special sessions proposed by attendees.
Keynotes
From questions of what and why to why it all matters: Evolving thoughts on the changing Arctic.
Integrating terrestrial and subsea permafrost into climate policy.
Camp Century revisited: an ecosystem under the ice reveals Greenland's warmer past
Celebrating the scientific legacy of
John T. Andrews
Saturday
17 April 2021
In-person/online special event
11:00am - 1:00pm

Slide show
Multiple Speakers
Pre-recorded stories
Open microphone stories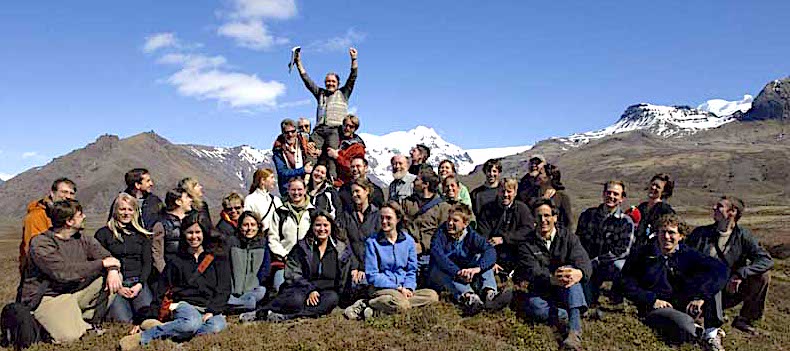 John at the top of a pile of former students and their students in turn. 2007 Arctic Workshop, Iceland. Photo: Tad Pfeffer.
Social breaks
12pm -1pm each day
We will set up online breakout sessions for those who want to visit with colleagues and meet new people. Participants can choose their session just before it starts. A tentative plan is for:
Day 1: Discipline, i.e. permafrost
Day 2: Geographic Area, i.e. Alaska
Day 3: Topic, i.e. diversity in geosciences.