About
Share your latest high-latitude environmental research with a broad community of Polar scientists
---
This years' Workshop is online, 10am - 3pm Mountain Time, Thursday to Saturday (to help accommodate attendees across timezones).

Watch live 3-minute lightning talks with 5-7 minute Q/A on Zoom. No posters.

Each lightning talk has a more detailed 10-minute video for registrants to view anytime in the week before and during the Workshop.

---
Deadlines
01 April 2021 - Register & submit abstract
05 April 2021 - Upload talk slides & video
Keynotes
TBA: Keynote talk will be announced later.
TBA: Keynote talk will be announced later.
Special Saturday event

Founder of the Arctic Workshop, John T. Andrews has been a pioneer in advancing our understanding of Pleistocene ice sheets, their interaction with adjacent oceans, and their profound influence on the Earth system.
Schedule
All sessions are online
and on Mountain Time
Thursday Apr 15
Welcome 10am
Short Talks 10am–3pm
Social Break 12–1pm
Friday Apr 16
Short Talks 10am–3pm
Social Break 12–1pm
Saturday Apr 17
Short Talks TBD
Social Break 12–1pm
Celebration of JTA TBD
---
Open topics
The Arctic Workshop is open to all interested in high-latitude environments: past, present, and future
Previous Workshops have included presentations on Arctic and Antarctic climate, atmospheric chemistry, environmental geochemistry, paleoenvironment, archeology, geomorphology, hydrology, glaciology, soils, ecology, oceanography, Quaternary history and more. For an example of past presentations, visit the 2018 Arctic Workshop website
We especially encourage participation of researchers and students investigating topics such as
Changing permafrost landscapes.
Ice-ocean interactions and sea-level consequences.
Climate-ecosystem human health connections.
The Workshop has traditionally had many paleoenvironmental science presentations, and we anticipate a strong contingent this year too. See the Program
Student support
Discounted registration fees for students
Discounted registration is available to students from any country thanks to subsidized support from INSTAAR.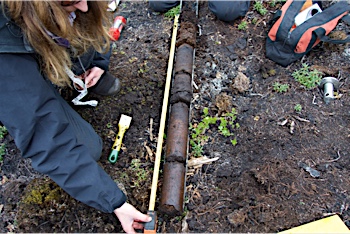 Latest research
The abstract deadline is only two weeks before the meeting.
You can share your latest ideas and get valuable feedback. You can hear about entirely new studies as well as updates since AGU, GSA, and other meetings.
Welcoming community
Interact with first-time and veteran participants in a safe, productive environment
A relaxed, informal interaction is fostered by the Workshop's modest size, high proportion of students, and single-track schedule.
To help ensure a safe, productive, and welcoming Workshop for everyone, all attendees agree to our Code of Conduct.
The Workshop encourages participation of Indigenous Peoples. We are recruiting specific Indigenous speakers and offering free registration to all Indigenous attendees. See Land Acknowledgment
INSTAAR sponsorship and hosting
Online meeting organized by the Institute of Arctic and Alpine Research, University of Colorado Boulder
INSTAAR's researchers (including graduate and undergraduate students) tackle environmental science challenges that span local, regional, and global scales.
INSTAAR supports the Workshop in myriad ways including subsidized student support, web content and hosting, IT support, and physical facilities.
See more about INSTAAR